CHANGE TRACK, FIND YOUR PLACE
Information Technology
IT support
Year-round
By day
Full-time
Indoor
Administration
Customer service
Technologies
See details
Operations & Maintenance
Mechanic
Winter
By day
Full-time
Indoor
Driving
Handicrafts
See details
Ski School & Shops
Assistant Director – Ski & Bike School
Year-round
By day
By evening
Full-time
Indoor
Outdoor
Ski / Snowboard
Administration
Ski school
Management
See details
At the mountain, we're pulling out all the stops to help you find the job that's right for you. Take a look at our job opportunities. There's sure to be one for you!
Not sure? Don't stress, we're here to help!
Write to us and we'll find a place for you.
Send us your C.V.
BECAUSE BEING GENEROUS IS IN OUR NATURE
Free mountain access
Summer or winter, you'll have access to the facilities at all times. Whether it's a family pass, a friendly offer or a courtesy ticket, there's a wide choice to suit everyone's personal situation.
Employee well-being
In addition to an advantageous group insurance plan and a telemedicine program, several activities are organized. Yoga, chair massage or an introduction to mountain biking, there's something for everyone.
Store discounts
For head-to-toe outfitting, winter or summer, you can take advantage of a 50% discount on everything in store. Where you put it all remains to be seen!
Social activities
Because we simply love each other, parties are a Bromont tradition! The team works together, supports each other, encourages each other, has fun and complements each other. Real friendships are made!
Discounts and preferential rates
Whether at the boutique, the cafeteria or at various partners, employees benefit from a multitude of discounts. Spa, golf, clothing, sporting goods, entertainment, training rooms, the list goes on!
Professional development
Hard work doesn't go unnoticed at Bromont. We'll be your best allies in your professional development.
EVERY EMPLOYEE MAKES A DIFFERENCE
Working at Bromont means making a living from your passion and enjoying an extraordinary environment every day! The team is the heartbeat of the resort. Outdoor enthusiasts or not, discover colleagues like you who thrive on challenges. Let us surprise you!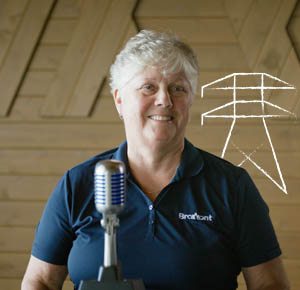 Nancy
Human resources technician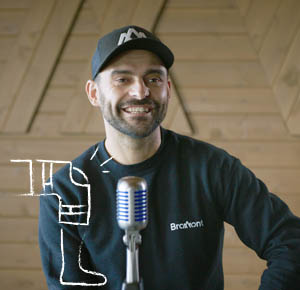 Jérémie
Trail maintenance supervisor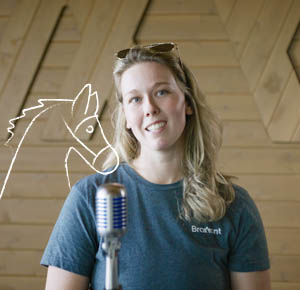 Vivianne
Snow factory team leader
DISCOVER THE MOUNTAIN BACK SCENE
Patrollers
Their duties include checking that all aspects of the mountain are secure and up-to-date, from the signage to the conditions on the trails. Patrollers are on hand at all times to assist cyclists and skiers. Theirs is a key position that ensures our clients will enjoy the mountain to the max!
Prevention and Water Park
These employees look out for any potential problems in order to prevent them from getting out of hand. They're responsible for enforcing the rules, and during the summer also check that the water quality and cleanliness are over and above standard measures.
Finance
The people who work in finance analyse company data, in order to track revenues and maximize profitability. This department is the home of number crunchers!
Trail maintenance
We have a dedicated team of people responsible for maintaining the trails on the mountain and if it wasn't for them, the ski season wouldn't be so long, the slopes wouldn't be so well-kept and the bike trails wouldn't be so mind-blowing! These "winter makers" keep some 2,000 snow guns running smoothly and make sure that the more than 50km of bike trails remain free of debris.
Site and vehicle maintenance
It's largely due to this team of skilled tradespeople that our craziest ideas become a reality! Carpenters, plumbers, painters, horticulturists, machine operators and mechanics all help to maintain our facilities and keep things humming….
Marketing and communications
In these areas, time is of the essence. Being able to act swiftly and respond to issues without delay is essential in this fast-paced environment. The marketing team ensures that a message is clear, that sales are on target and that the brand stands out from the competition.
Repair shop and boutiques
A team is on hand - summer or winter – to help with repairs, maintenance or sales and/or rentals of equipment. They can sell you a range of things to replace everything from lost mittens, abandoned bathing suits or broken poles! It's all in a day's work for these enthusiastic, people-oriented employees.
Schools
The Ski and Bike School is where outdoor lovers develop a passion for their particular sport. Summer or winter, our professional instructors are onsite in safe surroundings, to teach the most effective techniques to people of every age and ability.
Customer service
The customer service staff are the first people our clients come into contact with at the mountain. Their role is to give visitors an exceptional "customer experience". Kindness, professionalism and enthusiasm are at the heart of this job, which is all about people skills.
Entertainment and events
The creative people who work in this department are never short of ideas! Every season brings with it a new round of innovative events and attractions, catering to a wide range of visitors. In this job, you rarely have time to slow down!
Ski Lifts
Our ski lifts make it easy for people to travel up and down the mountain (not just in winter) and to practise their favourite sport. Don't forget to say hello to the lift operator before you climb aboard!
IT
The IT team is always on the lookout for new trends. Our technical staff ensure that our systems are reliable and that they are working efficiently and securely. A job with IT + a mountain - what a combination!
Sales
Ils avaient probablement un kiosque de limonade quand ils étaient enfants. Cette équipe n'a qu'une idée en tête : augmenter les revenus de l'entreprise via des événements corporatifs, mariages, groupes scolaires, partenariats, etc. Une équipe créative, dévouée et axée sur les résultats!
Human Resources
From recruitment to employee development, safety and well-being, the HR team works hand in glove with every department. A fun-loving group, they enjoy springing surprises on their fellow employees. They've even been known to conduct interviews in the cable car!
Projects
When it comes to making changes, whether that be a new water slide, ski lift, lookout point or even a chalet at the top of the mountain, nothing is too great a challenge for this group of people! As a member of the project team, you'll be participating in some major projects.
Catering
What makes this different from most jobs in the hospitality sector is the opportunity to work in an extraordinary environment. As well, you'll be responsible for creating food that satisfies a variety of palates.
Hygiene and sanitation
This team oversees the cleanliness of the indoor and outdoor areas, in the setting of what is a high-traffic resort – essential for ensuring a good level of hygiene to protect both visitors and employees.
Industrial maintenance
A dedicated team without whom no one could climb to the top. The team of industrial mechanics and electricians ensures that the lifts are in order and ready to travel with skiers, snowboarders and bikers. A whole routine has to be carried out every day, before the first passengers board. If safety is your main concern, you've come to the right place!
YOUR NEXT ADVENTURE STARTS HERE
During which season?
What type of work?
By day
By evening
By night
Full-time
Part-time
Indoor
Outdoor
What are your interests?
Ski / Snowboard
Technologies
Catering
Surveillance - First aid
Sales
Marketing
Management
Handicrafts
Finances
Human resources
Customer service
Maintenance/Hygiene
Ski school
Driving
Animation
Administration
Sorry, there are currently no jobs that match your choices.

Mission
To create unique mountain experiences and moments of sheer joy.
Vision
Become a destination firmly attuned to its mountain environment, where the quality of life and having fun are front and centre!
Our values. Our mountain.


Passion & fun
Ensure an organizational climate and a pleasant working environment that create a balance between work and pleasure, allowing our staff to feel productive and happy – all the better to serve our clients.

Flexibility
To have the ability to quickly accept and adjust to unexpected challenges (related to the weather, the season, visitors etc.) by questioning our customary way of doing things, in order to encourage innovation and make any necessary changes.

Collaboration
Maintain harmonious relationships with our employees through teamwork, by cooperating with different groups, listening to their concerns and creating an atmosphere of trust.

Integrity
Demonstrate honesty and responsibility in your choices, actions and words. Consistency and transparency are essential to maintaining a climate of trust, respect and fairness among staff.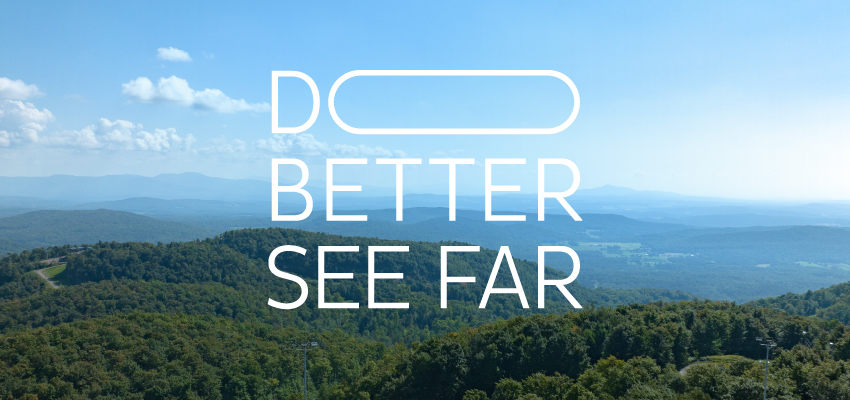 Our mountain. Our future.
At the mountain, we believe that every small gesture matters, and that it's our responsibility to preserve our environment so that future generations can also live and play here.

Who are our managers?
Our managers are cool! They ski, mountain bike, hike and even hang out at the wave pool in their spare time. Don't believe us? Well then, read what they have to say…
FAQ
Is it possible to do a paid internship at BME?
Certainly! To apply, simply send an email to rh@skibromont.com indicating what kind of internship you're interested in at the mountain and attach your CV.
Do you have year-round jobs?
Yes! We currently have around 170 permanent/regular employees. Most of our services need year-round staff, whether for administrative positions such as accounting, human resources, or marketing, or in operational roles like maintenance, patrolling etc.
How does your hiring process work?
Our available positions are posted on our career page and we look at all the applications. Selected candidates are contacted for a chat by phone and then interviewed in person. On our career page, you can also take a quiz to help you to determine what kind of job might best suit your skills. You can also send us an application on the spur of the moment, in the off chance that something might be available…
Can I hold two different jobs at the mountain?
It is certainly possible to combine a couple of jobs at the mountain. For example, someone could work in the restaurant on weekends and work as a ski lift operator during the week. Another way to do this is to have one particular position in the summer (e.g. site maintenance) and another type of job in the winter (e.g. a patroller).
How do you become a patroller?
For selected candidates, we start group training before the start of the season. This training includes, among other things, procedures for the evacuation of ski lifts. Hiring is also conditional on passing a ski ability test (to determine your skill level) and obtaining an Alpine First Aid certification (4 weekends, at the trainee's expense). We invite you to attend our open house at the end of the winter season. It's the ideal opportunity to meet the team and submit your application. You can also become a volunteer patroller!
What is the minimum age to become a lifeguard and what are the hiring criteria?
You can become an assistant lifeguard from the age of 15 if you hold a Bronze Cross certificate. To get a job as a lifeguard at BME, you must be at least 17 years old and have completed the National Lifeguard (NL) training on how to become a lifeguard.
Do I have to be able to ski or snowboard to work at BME?
Not at all! But it benefits you if you DO practice these winter sports, because privileged access to the mountain is one of our employee perks. Also, certain jobs like patroller, instructor, security patroller and "ambassador guides" require a certain level of skill.
Does Bromont provide any accommodation for employees?
We currently have an arrangement that allows some employees to live near the mountain at their own expense. Certain conditions apply. For details, contact the human resources team at rh@skibromont.com.
Does the organization allow employees to work remotely?
Our company policy does allow for 2 days of working offsite and 3 days in-person. That, of course, is dependent on the nature of the job and the discretion of the manager. Because Bromont, montagne d'expériences, is part of the service-oriented tourism industry, the company tends to encourage employees to work with their colleagues in person, rather than remotely.
Are the work schedules fixed or flexible?
Bearing in mind that an employee might have to change his or her work schedule due to family or personal problems, there is room for some flexibility, depending on the type of job held by the particular member of staff.
Do you provide training for specific jobs?
Of course we do! We take the amount of time necessary to train new employees. Normally, the training involves the participation of a manager and colleagues. We are strong advocates of mentoring, to ensure that all employees have the knowledge and the tools to perform their jobs well.
Is there a dress code at BME?
Our day-to-day environment allows us to adopt a dress style that reflects our industry – in other words casual and sporty! The teams that come into contact with clients however,  have to wear a uniform, issued when they begin their employment.
What is the minimum age for working at the mountain?
According to the Commission for Standards, Equity, Health and Safety at work (CNESST) the minimum age limit in Quebec is 14. Some conditions regarding schedules and the number of hours that one is permitted to work, also apply to young people aged between 14 and 16.
Is there a maximum age limit for working at the mountain?
At BME there is no maximum age limit. We actively encourage retirees to join us!
We were unable to answer your question?
Please contact us at the following address: rh@skibromont.com
Haut de page
Haut de page