Bromont, montagne
d'expériences is…
The largest lit ski area in America
With 450 acres of skiable terrain, 141 trails, including 32 glades and 101 lit trails, and 9 ski lifts spread over 7 slopes. With more than 1,500 snow guns, conditions are guaranteed, day and night.
A water park in the summer
Offering 25 water- and land-based activities, including a heated wave pool of nearly 24,000 square feet, rafting descents, kilometres of slides, and alpine luge on the mountainside.
The largest mountain biking area in Eastern Canada
From May to October, the site offers the largest mountain biking area in Eastern Canada with 24 downhill trails for all levels. In addition, it includes nearly 50 km of multipurpose trails for a wide range of mountain activities: hiking, trail running, enduro, or cross-country biking.
OUR VISION
To become a great mountain destination in Eastern Canada, anchored in its environment and recognized for its unique charm.
OUR MISSION STATEMENT
Combine the natural attractions of the mountains and the abundance of regional tourism to create moments that will delight ski and outdoor enthusiasts.
The beginning of a beautiful story
NEARLY 60 YEARS OF PLEASURE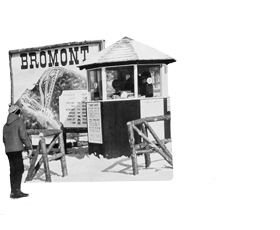 1964
Development of Mont Soleil, opening of 3 trails on Mont Brome and installation of 2 lifts.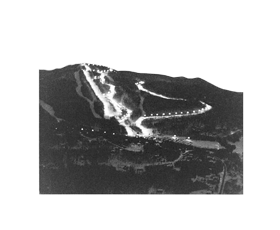 1980
Evening skiing makes its appearance, as does the beginning of snowmaking.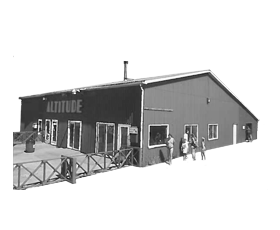 1984
The mountain now has the status of a four-season resort thanks to the inauguration of the Water Park and the addition of the alpine luge.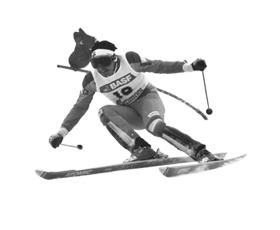 1986
The Alpine Skiing World Cup Final coincides with the inauguration of the first detachable quad chairlift on Mont Brome.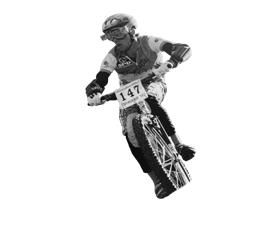 1990
The mountain biking activity opens with its first trails and experiences remarkable growth.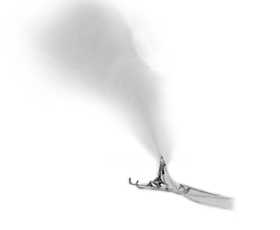 1998
The snow cannon artillery is expanded. Snowmaking capacity doubles and the number of skiable trails increases to 29.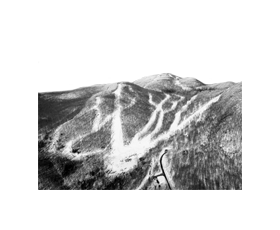 2002
The skiable domain is expanded with the opening of the Versant du Lac and 18 new trails.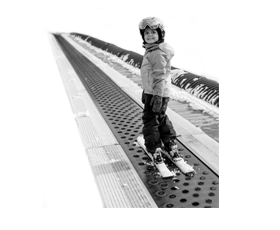 2003
Inauguration of a new quad chairlift on the Versant du Village and a magic carpet on the Pente-École. The number of lit trails increases to 20.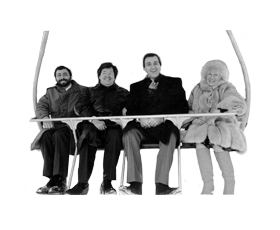 2006
The Versant des Cantons is inaugurated with the addition of a new quad chairlift. 72 trails are now offered, more than half of which are lit.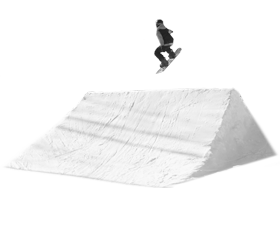 2007
Inauguration of the Versants de la Côte Ouest, du Midi and des Épinettes. The addition of 25 new trails brings the total to 129, of which 60 are lit. In addition, the snow park becomes one of the most thrilling in Quebec, with nearly 20 new modules!
2009
Opening of a superb wave pool. With its different levels of waves, there's guaranteed fun for young and old alike!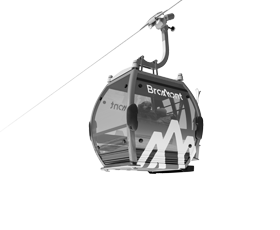 2018
Installation of a new hybrid lift with gondolas, the Express du Village.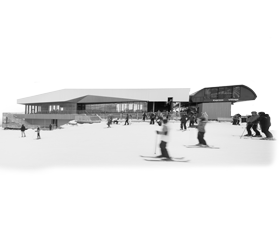 2019
Construction of the Chalet du Sommet, a gathering, refueling and relaxation area at the highest point of Mont Brome.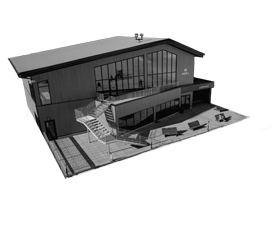 2021
Construction of the Chalet Soleil. With a view of the Pente-École and plenty of seating, Chalet Soleil is the perfect place for families!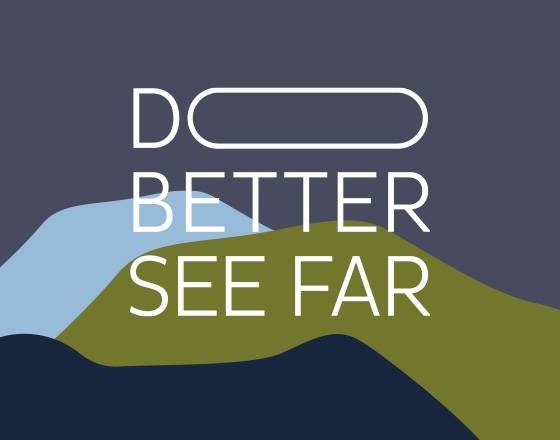 DO BETTER SEE FAR
Do better, see far is a formal sustainable development approach encompassing various dimensions. With the support of Comité 21 Québec's expertise in sustainable development, we present our strategic plan.
See the strategic plan
Our management team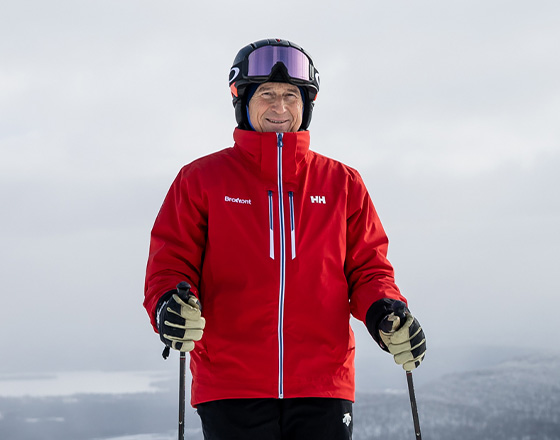 CHARLES DÉSOURDY
President
Charles knows the mountain like the back of his hand and not only because he is the president... but also because he's never missed a winter of skiing at Bromont since the resort opened in 1964! He was also employed as the evening ski and snowmaking manager for the 1981-82 ski season. It's a story of love and passion that he has for the mountain! In fact, since he became president in 1998, snowmaking has always been the core element of the mountain, whose snowmaking capacity continues to increase every year. That's why Charles is always looking for ways we can improve and that's his main focus each day. A graduate in civil engineering from McGill University, he was also president of the Quebec Ski Area Association from 1999 to 2005 and remained on the board for 20 years (wow!).
HIS FAVOURITE MOMENT
"When the Express du Village with the gondolas was introduced in 2018. That's a moment I won't forget. I remember being proud, I thought we had just marked an important milestone for the skiers' experience and the development of the resort."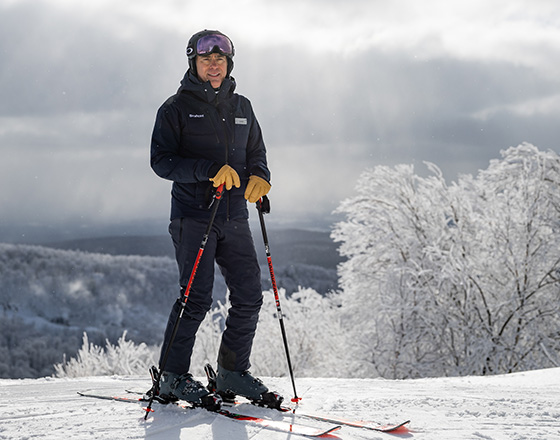 CLAUDE PÉLOQUIN
Vice President, General Manager
Claude's track record is impressive. From a bachelor's degree in physical education to a graduate degree in management from HEC, he became president and CEO of the Quebec Ski Area Association in 1995, a position he held until 2013 (do the math!). He then joined the Bromont team and actively participated in the mountain's development plan and in the creation of Projet Altitude. At the same time, he participated in various boards of directors. Claude says that he is still impressed by the scope of the ski operations on the 7 slopes and that Bromont is definitely unique in the ski world.
HIS FAVOURITE MOMENT
"Before the Chalet du Sommet was built, Charles wanted us to be involved in deciding where it would be located. So, with the help of a hydraulic platform at the top, the management team took turns climbing into the gondola to simulate, with the help of a GPS, the correct height of the view we would get when sitting in the new chalet. It was spectacular."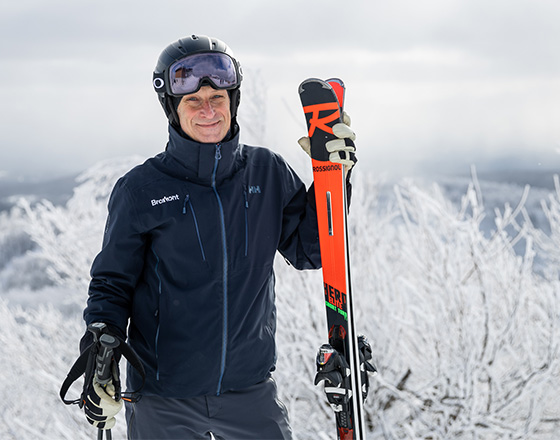 VINCENT BOUCHARD
Vice President, Real Estate and Projects
Vincent worked for several years at Désourdy Construction before accepting a (surprising) job as a project manager in Prague, Czech Republic, where he stayed with his family for 5 years! Back home, he accepted a job in Toronto before joining the mountain team in 2010. Vincent loves to start new projects and that's a good thing, because we never run out of them! Each project under his responsibility is unique and that's what motivates him the most. Going skiing after work or going for a run at lunchtime also makes him love his rather out-of-the-ordinary job.
HIS FAVOURITE MOMENT
"I never imagined I would experience such a powerful moment when the Chalet du Sommet opened. I remember the party that followed and the beaming faces of all the employees. We were happy and, above all, proud of the result of our joint efforts."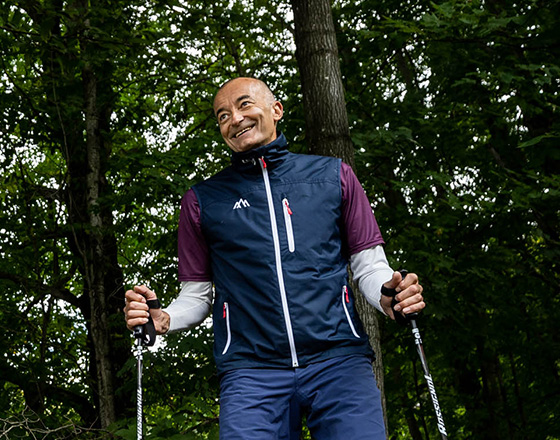 DANIEL ROCHON
Assistant General Manager
Daniel has over 25 years in the ski industry (yikes!). He spent 10 years on the management team at Tremblant and then served as Vice-President, General Manager at Stoneham and Mont Sainte-Anne before joining the Bromont team. These positions led him to work with different departments at the ski resorts and this is what he appreciates the most about his day-to-day work: participating in the discussions on the company's development and interacting with the mountain's different departments, both the field and management teams. He also emphasizes the intensity of Bromont's four seasons of activity, which is a constant operational whirlwind!
HIS FAVOURITE MOMENT
"I'm still impressed to be able to ski in the evening after work and find the same conditions as when we opened in the morning! I've never experienced this before, the maintenance of the trails is one of Bromont's great strengths that never ceases to amaze me."
CAROLE-ANNE MÉNARD
Director, Customer Service
Carole-Anne came home (oops to the mountain!) in 2013. She says she feels completely at home during her days here, both in the values of the company and in the team that surrounds her. Initially a marketing and communications specialist, Carole-Anne entered through this door before moving on to become Director of Customer Service. Big mandates? She's had them! She contributed to the deployment of sales software, to the entire renovation project of the Bistro-bar La Débarque and to the implementation of new products... to name just a few. Carole-Anne loves to dive into improvement strategies and for her, teamwork is a must!
HIS FAVOURITE MOMENT
"When I realized that I really felt at home. I think that the sense of family is very present at the mountain and that, combined with the passion of the employees, we manage to make small miracles happen every day. I love it!"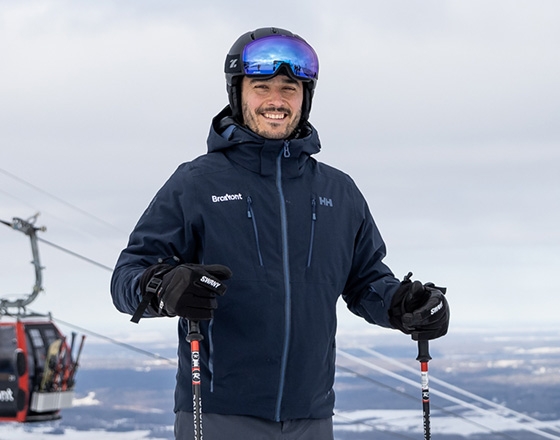 MARC-ANDRÉ MEUNIER
Director, Sales and Marketing
Marc-André has been our Director of Sales and Marketing since 2017. He sets himself apart from his team and peers with his (truly) endless energy. As proof, he is on his bike (or skis) every lunch hour and has also managed to deploy a new marketing strategy and improve the customer experience. Thanks to his actions, Bromont stands out as a resort where the experience goes far beyond skiing.
HIS FAVOURITE MOMENT
"The day of Max Parrot's celebration and Fouki's evening show is probably my number one favourite day at Bromont. I felt so proud to be part of this historic moment and to contribute to making thousands of people happy. After two years of the pandemic, the timing of this day was perfect. It was incredible!"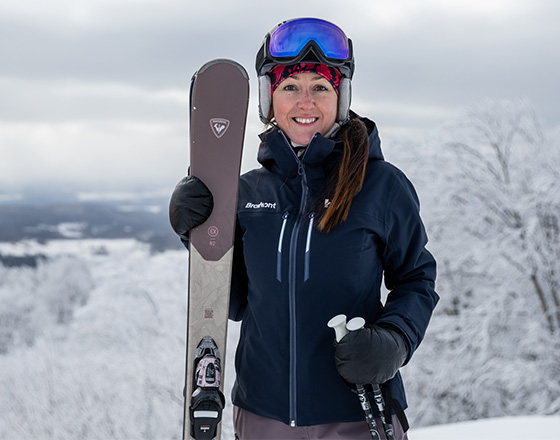 KATHY DESCHAMPS
Director, Human Resources
Who said you had to know how to ski to work at Bromont? Not our Director of Human Resources anyway! Kathy skied for the very first time on her first day of work at the mountain 14 years ago. She says that her colleagues, as committed and talented as they are at work, gave her a love of skiing that she can't live without today. And that's part of what she likes about her work environment—it's also a way of living, never routine, always in action (let's face it, at Bromont, we're all about projects!).
HIS FAVOURITE MOMENT
"My first day of work! My colleagues found me boots and skis and said, let's eat at the top and ski back down. It was quite an adventure! It also says a lot about my colleagues who rallied to bring me with them!"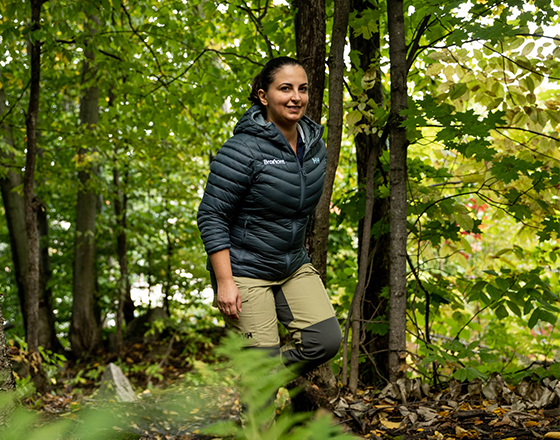 DANIELA SEVERIN
Director, Finance
With a graduate diploma in accounting from HEC, Daniela is our chartered accountant. She is the one who has to navigate between the numbers of our ski, waterpark and mountain bike operations. Think an accountant's job is routine? Not at the mountain it isn't! Daniela's days are never the same and it's this diversity that she enjoys. The projects are multi-disciplinary and she is constantly in action! Each day, Daniela enjoys the dynamics of teamwork and being close to nature. In fact, she sees the mountain every time she looks out her office window (not a bad work environment when you have to deal with numbers all day)!
HIS FAVOURITE MOMENT
"What really took me outside the box was when a colleague invited me to go on a bike ride to get to know me when I arrived in 2020. It was a change from the traditional happy hour!"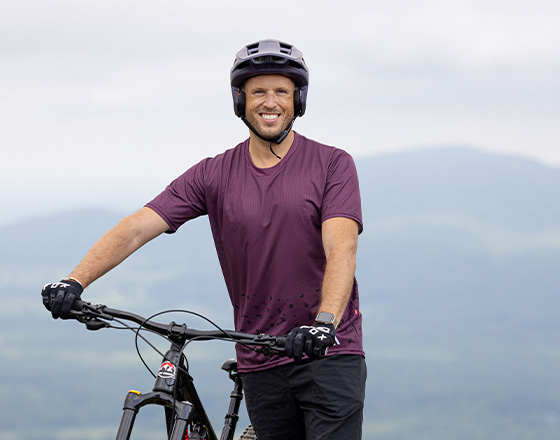 CHARLES-ANTOINE POULIOT
Director, IT
Charles-Antoine holds a bachelor's degree in business administration with a concentration in business technology management from the Université de Sherbrooke. He held various positions in the technology field before joining the Bromont team as Director of IT. Always on the lookout for solutions to meet the technological needs and challenges of a company that welcomes customers nearly 11 months a year (help!), Charles-Antoine also knows how to enjoy his wonderful work environment and loves to go skiing on his lunch hour. Like his colleagues, he lives by the adage: one run a day keeps the doctor away forever!
HIS FAVOURITE MOMENT
"When I discovered that the plateau of the ski school hill was actually the wave pool filled with snow! I was impressed to see the cannons working and the other side of the story that the customers don't see."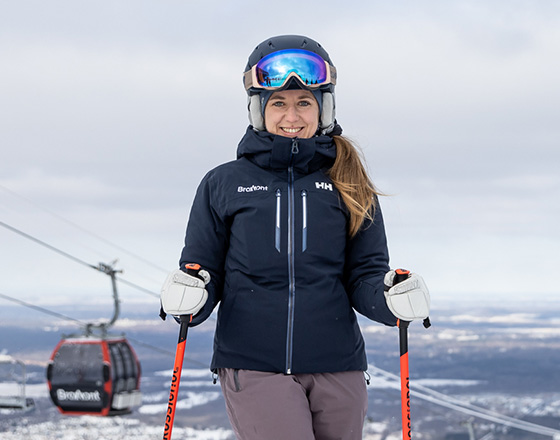 MARIE-HÉLÈNE BOURBONNAIS
Director, Ski School
Arriving at the mountain in December 2021, Marie-Hélène has been teaching skiing since she was 14 years old (and she's entering her 20th year. You do the math!). Skiing has been a part of her life for a long time and has given her many experiences. A level 4 coach, she has taught in New Zealand and Whistler and has given lessons all over the world for the Canadian Ski Instructors' Alliance. Marie-Hélène thrives on challenges and you won't be surprised to learn that she has always pursued two careers in parallel. With a master's degree in sports nutrition, our dynamic director has also worked with our Quebec ski athletes. On a daily basis, she loves to meet people who are on the move (by bike or on skis!) and work with passionate people.
HIS FAVOURITE MOMENT
"Last winter, we had a meeting of the executive committee at the summit. We all met dressed in our skis and boots, and then came down as a group to make the first tracks. I knew right away that I wasn't working in an ordinary environment!"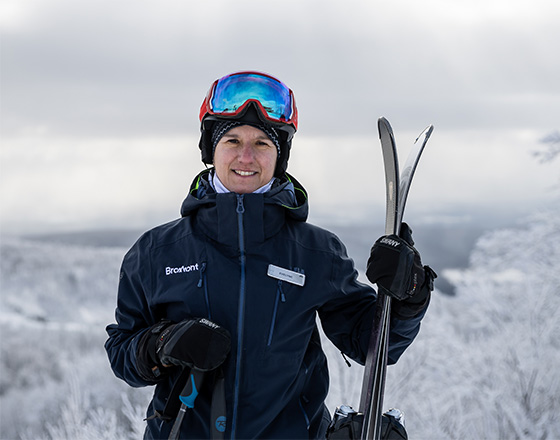 EVELYNE BOISVERT
Director, Maintenance
How can we introduce our multi-talented Director of Maintenance? We'll explain: Evelyne is an engineer by training, an Olympic athlete in diving, trained in mountain first aid, a black belt in karate... and the list goes on! Evelyne loves the outdoors and this is one of the reasons why she says that her work environment is a giant playground. She also points out that the support and team spirit that prevail at the mountain are part of what she likes most about her work environment.
HIS FAVOURITE MOMENT
"It's hard to say, because everything here is a highlight! All the projects are different and the company's dynamics means that you never get bored!"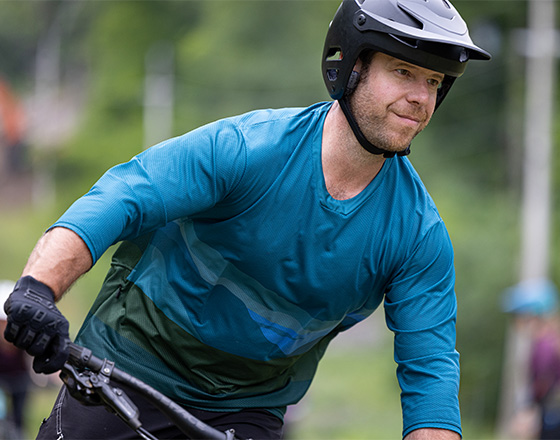 BENOIT PLOURDE
Director, Construction and Real Estate Projects
Benoit completed a bachelor's degree in business administration and then moved into the construction field. With a talent at changing addresses, Benoit worked in Toronto as an assistant superintendent, in Montreal as a project manager, in New Jersey as a major project manager and finally moved back to Bromont. In 2013, he joined the Bromont Immobilier team, which joined the mountain team when Projet Altitude was created in 2017. What he loves most about his job is the variety of projects. Who can claim to work on ski lifts, on a chalet, on water slides or on a ski school hill?
HIS FAVOURITE MOMENT
"A project I will never forget is the construction of the Chalet du Sommet. We had transportation and weather challenges. We had to bring up vehicles with grooming equipment. It was incredible. As part of the project, we even had to install a fire hydrant at the top of the mountain. Bromont must be the only mountain to have a fire hydrant on its summit!"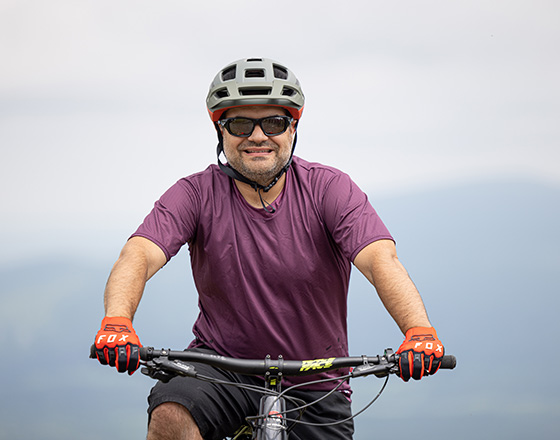 CHARLES-ANDRÉ CANTIN
Bromont, Real Estate
Charles-André began his career in finance before completing the program at the École d'entrepreneurship de Beauce and branching out into real estate 10 years ago. He is proud to be a shareholder of Bromont, montagne d'expériences, a family business that brings happiness to people... because that is the mountain's mission! Who wouldn't want to work for a company that creates happiness? In fact, this is one of the aspects of his work that he appreciates the most: the knowledge that he is developing living environments in which his clients will be happy.
HIS FAVOURITE MOMENT
"The time we threw pumpkins in the woods..." Excuse me?! We need an explanation!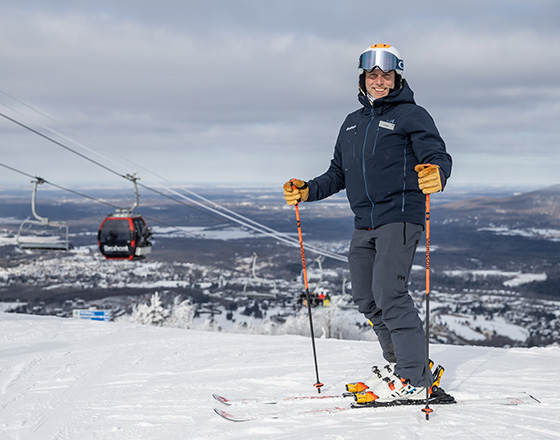 DOMINIC PÉPIN
Director, Operations
Dominic has been with us since the end of the summer of 2022 and, as a newcomer, he's already quite experienced—a mountain biker and a seasoned skier, he knows the mountain like the back of his hand! Before spending all his time (work and play, that is!) on the mountain, Dominic worked for 25 years in the manufacturing sector. He needed a change and he certainly found one! What he likes most so far are the projects, teamwork, colleagues and working on the site where he practices his favourite sports.
HIS FAVOURITE MOMENT
"Everyone keeps is always saying greeting each other on the site. You might say that's just being polite, but it's not like that in every workplace! The friendliness of the employees really stood out to me from the moment I arrived. It's so nice!"
Join our team!
Seasonal, regular or permanent, full-time or part-time, indoors or outdoors, temporary or for career purposes…
Trademark of Bromont, montagne d'expériences
The stylized word BroMont that incorporates the letter "M", which is also stylized, are each respectively a trademark of Skibromont.com, s.e.c. In addition, they are a creative work of art protected by copyright and therefore may not be reproduced without specific written permission.