Are you a season pass holder?
Did you know that you can take advantage of exclusive offers at local shops, hotels and restaurants?
Overview of our Gold partners.
An après-ski at BALNEA spa + réserve thermale : the ultimate relaxation experience
By BALNEA spa + réserve thermale
Usually, you probably end your day on the slopes with a comforting drink and return to the warmth of your home.
But what if you extended your nature getaway for a few hours to enjoy a well-deserved relaxation experience?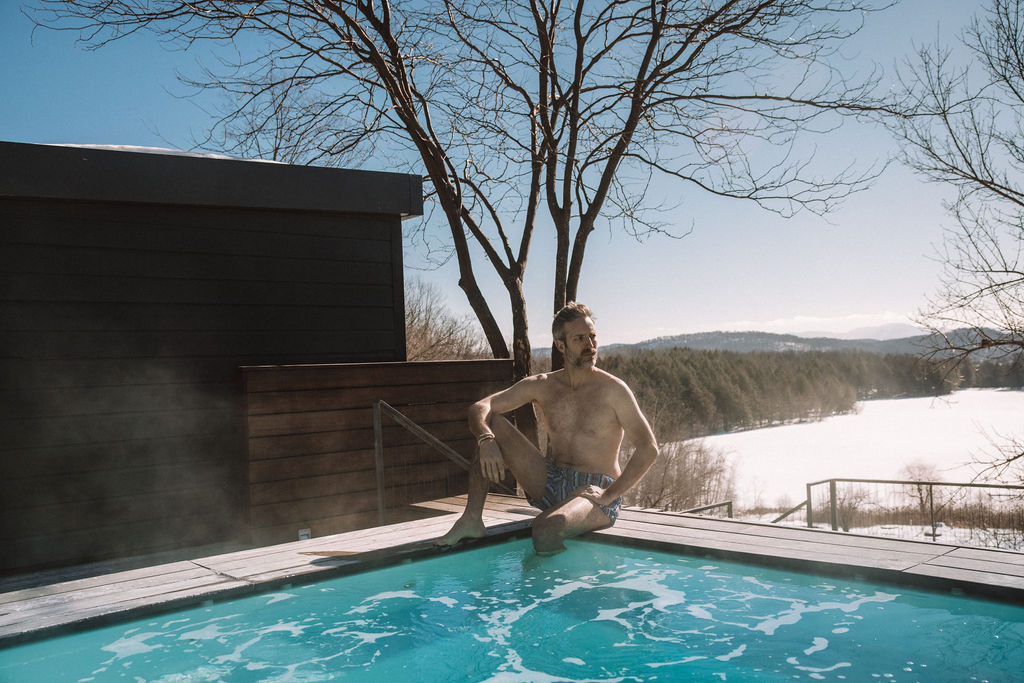 Credits : Mathieu Lachapelle
A small detour, great benefits
Located less than 3 km from Bromont, montagne d'expériences, BALNEA spa + réserve thermale offers you a most enveloping experience to end your day in a delectable way.
For an après-ski experience, the sunset thermal experience and the evening thermal experience are recommended*. You can purchase an e-ticket at balnea.ca or simply show up at the spa on your own.
Immerse yourself in one of our hot tubs and enjoy the contrast of the cool air on your skin. Your muscles will be instantly soothed and your blood circulation will be stimulated.
Relax in your bathrobe or soft blanket in one of our many indoor relaxation areas. You will appreciate our popular moroccan lounge with its comfortable cabins, our lounge section with its breathtaking views of the Appalachian Mountains, our cine-spa and our aquarium space: small cocoons specially designed to promote disconnection.
A unique gourmet experience
Feeling hungry? Try the fine, healthy and creative cuisine of our LUMAMI restaurant without even leaving your cozy bathrobe. Let the fireplace warm every pore of your skin and prepare your taste buds for a gourmet experience like no other. Our favorite? The delicious Nordic tartine with salmon gravlax, a staple on the menu for the past few years and one of our guests' favorite dishes. Paired with a good glass of white wine, it is a perfect match.
Alone, with a partner or with the family, allow yourself a break in our facilities before heading home and multiply your winter pleasures. Did you know? Children 14 years and older are allowed on the site when accompanied by an adult.
Enjoy the relaxation!
* The sunset thermal experience is offered from 3:30 p.m. or 4:30 p.m. until closing time depending on the day of the week. The evening thermal experience is offered from 5:00 p.m. or 6:00 p.m. until closing time, depending on the day of the week. Visit balnea.ca/contact for more details about our opening hours.
Belle Province and Shack du Pêcheur
Whether you are a snowboarder or a skier, the mountain is a source of pleasure for you. We also have a lot of fun in store for you. Whether you're tempted by the bacon sour cream poutine or 2 steaming hot dogs from la Belle Province or the Shack's bang bang shrimp poutine, or even more decadent, the lobster meat poutine, it's just a lot of fun for the taste buds!
Stop by the two kitchen counters, where the warm après-ski atmosphere of the dining room will surprise you. Take advantage of this opportunity to refuel before your runs, or to have a glass of wine or a beer to accompany your meal after skiing! We even offer electric and USB outlets at the tables to recharge your devices.
Our hearty plates are bursting with flavor, some reminiscent of a seaside vacation, others of a mountain vacation.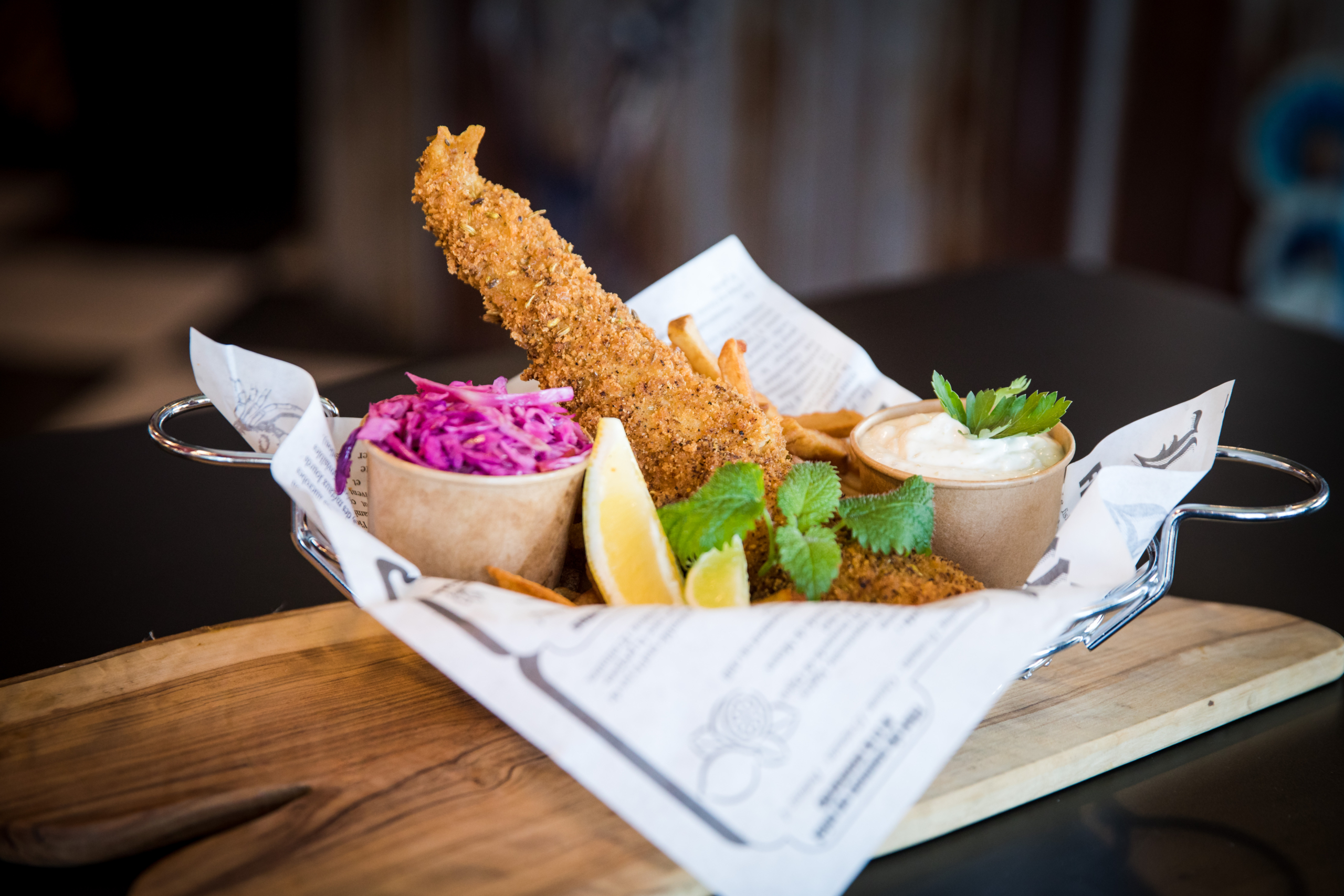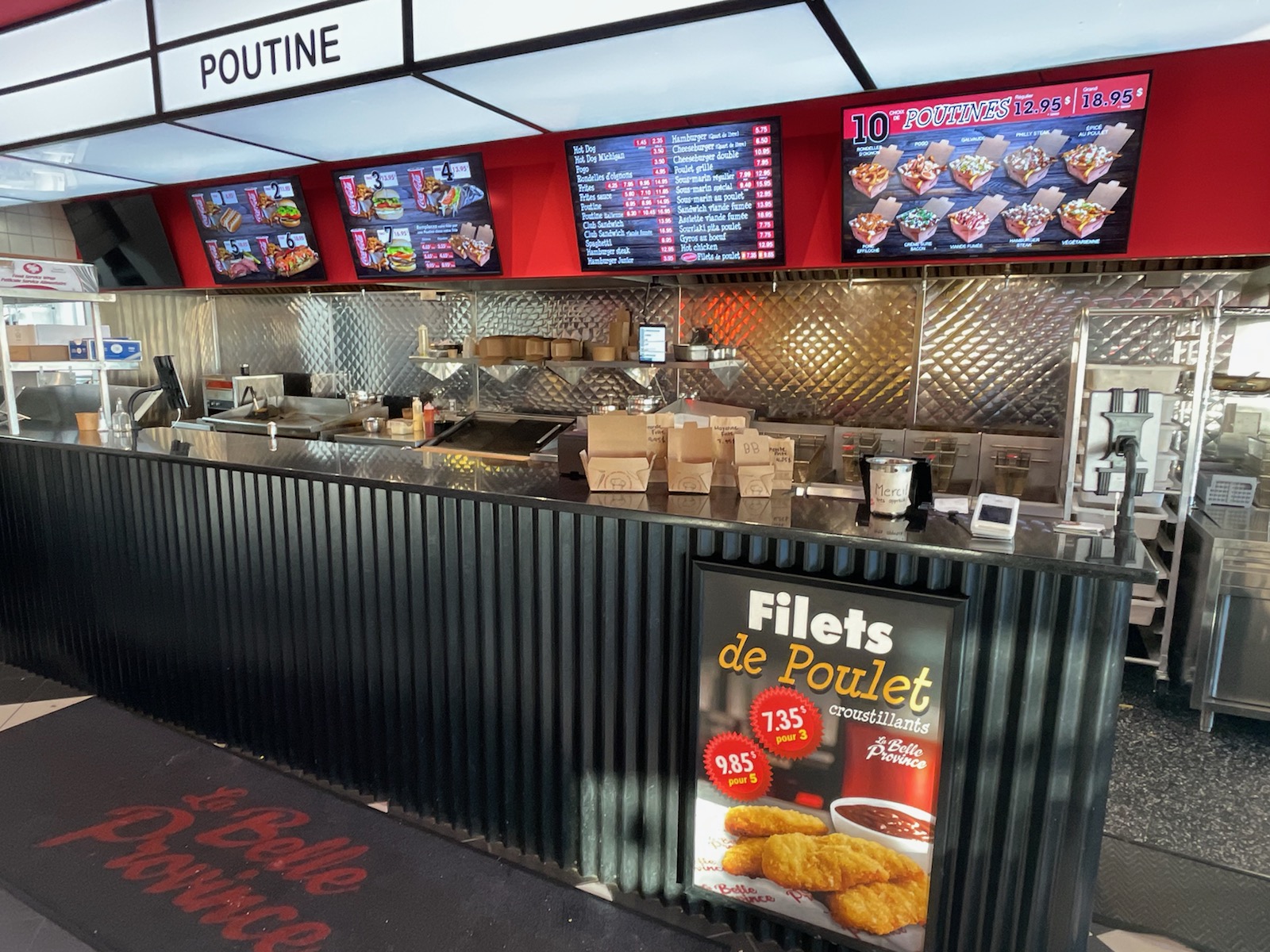 Try one of our tasty Fish'n Chips from the Shack du pêcheur Express with the flavours London, crispy panko, lemon-fennel or our Jamaican Jerk, a little spicy. Otherwise you can easily enjoy a succulent classic double cheeseburger or a smoked-meat plate from la Belle Province!
Bromont is undoubtedly represented by the Montagne d'expériences, but our dining room, decorated like a 1950's snack bar, will give you the "lift" you're looking for to fill up on energy, enjoy a good meal and have fun with your family. Our duo-restaurant concept is unique in Quebec!
Since the opening of our restaurants in the spring of 2021, we have been serving drive-thru, dining room or take-out orders to make the customer experience as attractive as possible. Many skiers have become accustomed to this since our opening.
We are waiting for you!